Phosphoric acid, also known as orthophosphoric acid, monophosphporic acid is a kind of inorganic acid in transparent or colorless solid liquid. It is easily deliquesced in air, when it is heated, it will lose water to become pyrophosphoric acid, and then further lose water to become metaphosphoric acid. Phosphoric acid is mainly used in pharmaceutical, food, fertilizer and other industrial fields. It can be used as rustproofing agent, food additive, dental and orthopedic etchant, electrolyte, flux, dispersant, raw materials of fertilizer and additive of household cleaning products. Meanwhile, it can also be used as a chemical reagent, used in the production of various phosphate chemicals. As a professional manufacturer of phosphorus chemicals, Chemate can supply both food grade and fertilizer grade phosphoric acid. Inquiry us now to get the quotation of phosphoric acid for sale in our company.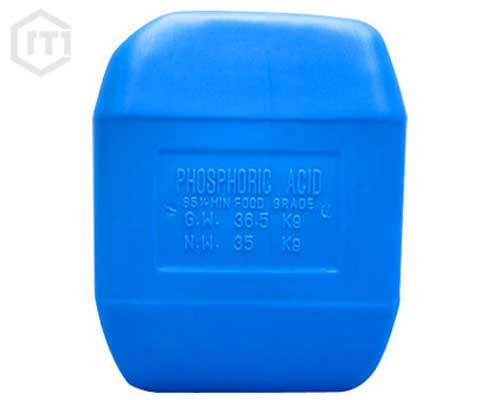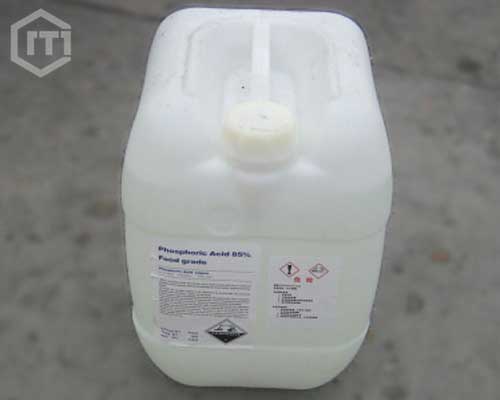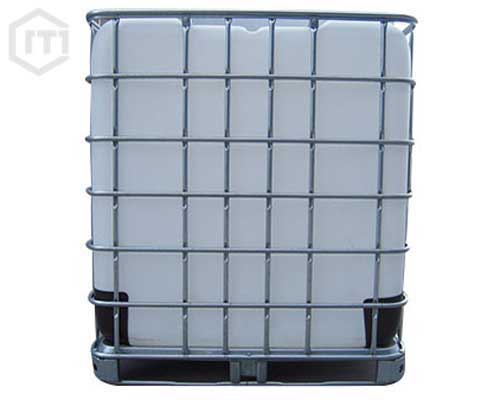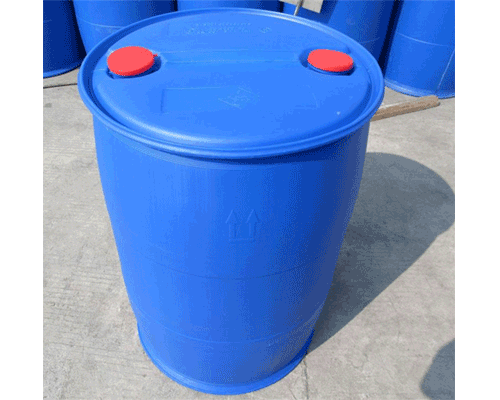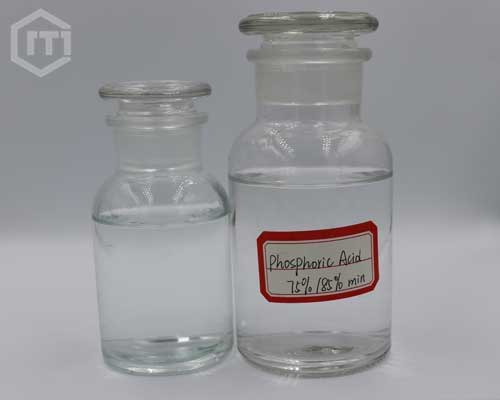 Chemate Phosphoric Acid for Sale
Chemate Food Grade Phosphoric Acid
Food Grade Phosphoric Acid for Sale
330kg Drum Phosphoric Acid in Chemate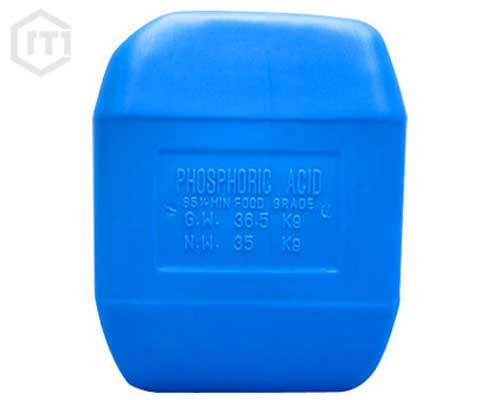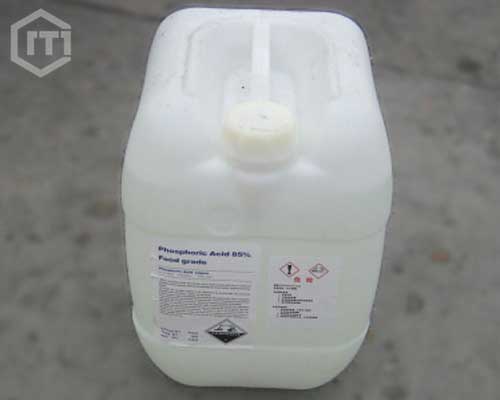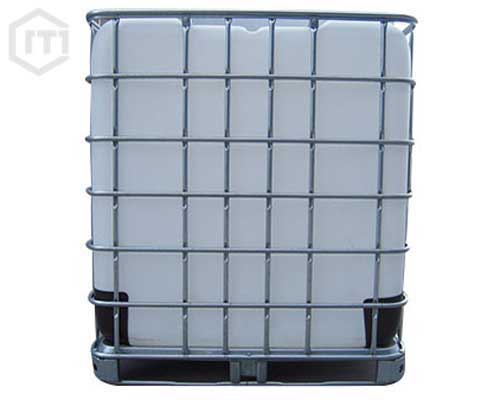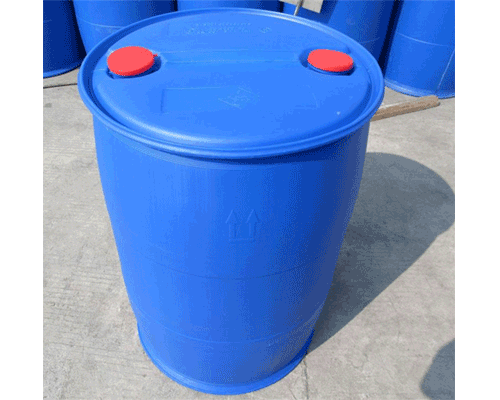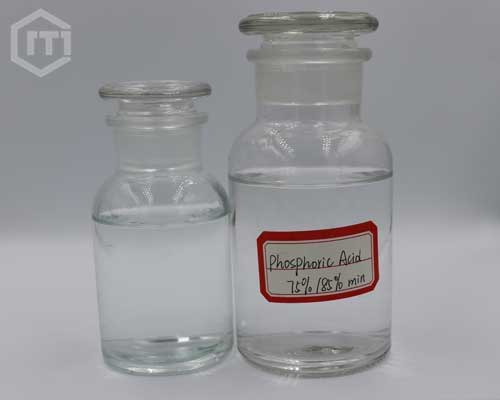 Product Name:

 85% Phosphoric Acid

Appearance:

 colorless, transparent thick liquid

Grade:

 Food&Fertilizer Grade
Main Uses: Sour agents, yeast nutrition, water retention agent, leavening agent, stabilizer, coagulant, anti-knot agent, etc…

CAS NO.:

 7664-38-2

Molecular Formular:

 H3PO4

HS Code:

 28092010
Specification: GB3149-2004/GB2091-2008
Item
Index
Food grade
Tech grade
Color/Hazen  ≤
20
20
Phosphoric acid (H3PO4) content, % ≥
85.0
85.0
Arsenic (As) content, % ≤
0.00005
0.0001
Fluorine (F) content, % ≤
0.001
—
Heavy metal (Pb) content, % ≤
0.0005
0.001
Easily oxidized substances (H3PO3) content, % ≤
0.012
—
Iron (Fe) content, % ≤
Nil
0.002
Chloride(CL)% ≤
Nil
0.0005
Sulfate(SO4),% ≤
Nil
0.005
Package of Phosphoric Acid for Sale in Chemate
Packaged in IMO approved plastic drums, net 35kgs, 330kgs/plastic drum, or net 1650kgs/IBC tank.
| | | | | |
| --- | --- | --- | --- | --- |
| | N.W | G.W | Qty of Drums/20'fcl | Loading |
| 1 | 35kgs/drum | 36.5kgs/drum | 760drums | Net 26.6MT per 20'fcl |
| 2 | 330kgs/drum | 340.5kgs/drum | 80drums | Net 26.4MT per 20'fcl |
| 3 | 1650kgs/IBC | 1710kgs/IBC | 16drums | Net 26.4MT per 20'fcl |
What Is Phosphoric Acid Used For
According to different uses and properties, phosphoric acid can be divided into several types, such as, food grade phosphoric acid, fertilizer grade phosphoric acid and industrial grade orthophosphoric acid. With different concentration and purity, they have a wide range of uses in their respective fields. So please pay attention to choose the suitable type for you. For more details? Inquiry us directly to phurchase phosphoric acid for sale in Chemate. 
Food grade phosphoric acid
 is generally produced by thermal method with no impurities affecting food safety, which should be in accordance with food safety standards. As one of the common used food additives, phosphoric acid food grade can be used in a variety of food processing for different functions.
Used as flavouring agent.
Used as sour agent in canned, liquid, solid drinks and cool drinks, which can replace citric acid and malic acid.
In the process of beer saccharification, the phosphoric acid can be used to adjust the PH value instead of lactic acid.
Used as clarifying agent for sucrose in the sugar industry.
In brewing industry, it can be used as yeast nutrient to prevent the reproduction of miscellaneous bacteria.
Used as improver in flour.
Phosphoric acid is an important raw material for the production of phosphate fertilizer, as well as the raw material for the production of feed nutrients. It can also be combined with other kinds of chemicals to from compound fertilizer. The main varieties of phosphate fertilizer are calcium superphosphate, triple calcium superphosphorate, manoammonium phosphate, diammonium phosphate and compound fertilizer. Phosphoric acid fertilizer is very useful for the growth of plants, fruits, vegetables, etc… The efficiency and speed of phosphate fertilizer depend on the content of phosphorus pentoxide, soil property, fertilization method and crop types. When you would like to buy special phosphoric acid uses in fertilizer, the fertilizer grade phosphoric acid for sale in Chemate will be your reliable choice.  
Used for phosphating treatment of metal surface steel pipes.
Preparation of electrolytic polishing liquid and chemical polishing liquid.
Used for the polishing of aluminum products.
Used in the manufacture of various phosphates.
In pharmaceutical industry, it can be used in the manufacture of sodium glycerophosphate, iron phosphate, adjust the PH value when produce penicillin.
Used to make zinc phosphate as an adhesive for dental fillings.
In plastics industry, it can be used as a catalyst for condensation of phenolic resin.
Desiccant for the production of dyes and intermediates.
In printing industry, it is used to prepare cleaning agent to wipe off stains on offset printing plate.
When producing matches, it can be used to impregnating match stubble to make the burned match stubble not ash into charcoal, which is much safer to use.
In metallurgy industry, it is used to produce refractory mud and improve the life of steel furnace.
In rubber industry, used for slurry coagulant and production of inorganic binder raw materials.
In water treatment industry, it can be used as water stabilizer and scale inhibitor.
Essential raw materials for the production of phosphorus chemical products, such as, STPP chemical, SHMP chemical, TSP, SAPP, urea phosphate, etc… 
20L or 200L plastic barrel, net weight 35Kg or 330Kg, 1650kg IBC tank. 
Know More About Phosphoric Acid for Sale in Chemate
Inquiry for Price from Phosphoric Acid Manufacturer - Chemate
Chemate technology Co., Ltd is a comprehensive company integrating production, research and development, sales and service based on phosphorus chemical industry. With the characteristics of professional production, innovational research, resource intensification and intelligent production equipment, the phosphorus chemicals we produced are with high quality and accurate proportion, which has been well received by our clients. Customers can rest assured to purchase phosphoric acid for sale from our company.
The raw material price of chemical industry fluctuates greatly, and there are varieties of products specifications and models. So if you have any need, please feel free to call us or send us email to get price quickly. We will reply you in 24 hours. And we can guarantee that we will give clients the most reasonable and competitive phosphoric acid price.