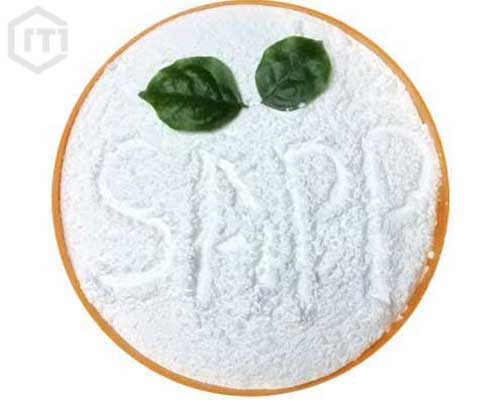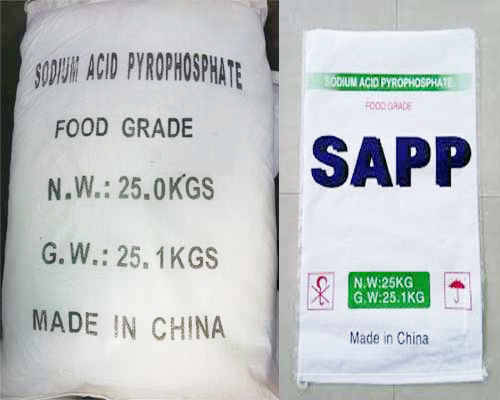 Sodium Acid Pyrophosphate SAPP Food Grade
Appearance: White Powder or Granules
Tech Grade: Food Grade
Models: SAPP 28, SAPP 40
Main Uses:  Rapid leavening agent, quality improver, buffer agent, chelator, stabilizer, emulsifier, color improver, etc…
CAS NO.: 7758-16-9
Molecular Formular: Na2H2P2O7
HS Code: 28352990
What Is Sodium Acid Pyrophosphate SAPP Chemical
Sodium Acid Pyrophosphate, also known as disodium dihydrogen pyrophosphate, disodium pyrophosphate, is white crystalline powder, which has the relative density of 1.864 and can decompose into sodium metaphosphate when it is heated above 220℃. it is easily soluble in water and can form chelates with Cu2+ and Fe2+. The aqueous solution can be hydrolyzed to phosphoric acid by heating with dilute sulfuric acid or dilute mineral acid. Sodium acid pyrophosphate is usually used in food processing industry. We can provide customers with high quality SAPP, contact us for price now.
| Items | Sodium Acid Pyrophosphate (SAPP) |
| --- | --- |
| Appearance | White crystal or crystalline power |
| Purity, % ≥ | 96% |
| Acidity(ml,0.1N NaOH 2.0g) | ≤0.2 |
| Heavy metals | ≤0.001% |
| Loss on drying | ≤1.5% |
| Moisture | ≤0.3% |
| Sulphate Ash | ≤0.1% |
Want The Best Quotation?
Tell us more about your requirements, such as, model, quantity, package, etc. Quotation will be sent to you quickly. 
Get A Free Quote
SAPP 28 refers to sodium acid pyrophosphate with a fermentation rate of 24-30. Although it is often called SAPP ROR 28, the fermentation rate is not fixed, but usually a range. It is a medium speed leavening agent, as well as the most demanded specification.
SAPP 40 refers to sodium acid prrophosphate with a fermentation rate of 35-43. It is a kind of fast leavening agent.
Choose SAPP 28 or SAPP 40
Different products require SAPP to produce gas at different speeds. The use of slow speed SAPP for frozen dough for biscuits and bakery products requires a slow initial rate of CO2 evolution during preparation and packaging, and a large gas evolution during the baking phase.
Medium-speed SAPP 28 is used in cakes, a part of the gas is generated in the early stage, and a part of the gas is generated after heating in the later stage. If there is too much gas in the early stage of baking, the volume will expand rapidly. At this time, the cake tissue has not yet condensed, and the finished product is easy to collapse and the tissue is thicker, but it cannot continue to expand in the later stage. If using too much slow-speed SAPP, the initial expansion will be slow, and after the product is condensed, part of the baking powder has not yet produced gas, making the cake small in size and losing the meaning of swelling.
The baking powder used for steamed buns and steamed buns needs to produce gas a little faster because the dough is relatively hard. So using fast-speed SAPP 40 will be better. If too much gas is produced after condensation, the finished product will appear "flowering".
Customers can choose according to your requirements. Have any question, feel free to contact us for further details and quotation. You can also know more about SAPP ROR here. 
Want The Best Quotation?
Tell us more about your requirements, such as, model, quantity, package, etc. Quotation will be sent to you quickly. 
Get A Free Quote
FAQ for Sodium Acid Pyrophosphate
We are a professional manufacturer with rich production experience. We have several complete production lines, scientific production process and strict quality management system ensure our high output and excellent quality. With professional technical personnel, advanced production equipment, physical and chemical inspection facilities and product laboratories, we have strong market research and development ability, so that we can continue to meet the requirements of market and customers.
Till now, the sodium acid pyrophosphate, phosphoric acid, trisodium phosphate, sodium tripolyphosphate, sodium hexametaphosphate and some other phosphorus chemical products produced by our company have been exported to many countries and regions around the world. Because of our excellent quality, service and reasonable price, our products are loved and praised by our customers. If you have any need, please feel free to contact us, email, message and phone are available, we will reply you quickly.