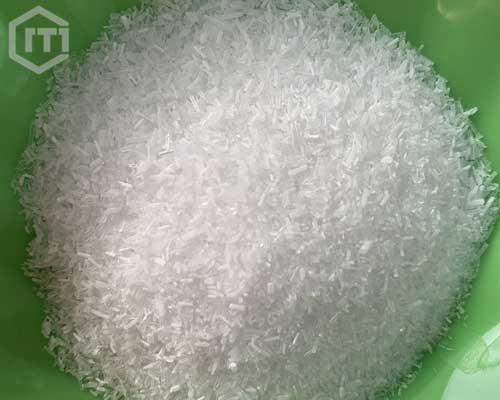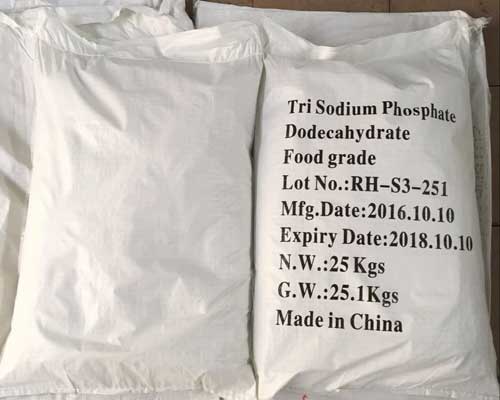 Dodecahydrate Trisodium Phosphate Na3PO4 .12H2O
CAS NO.: 7601-54-9
HS Code: 28352910
MF: Na3PO4.12H2O
Main contents, Na3PO4 %: ≥98%
Trisodium phosphate dodecahydrate with the chemical formula of Na3PO4. 12H2O is white or colorless crystals in appearance. When it is heated to 100℃, it will lose 12 crystal water and become trisodium phosphate anhydrous. It is soluble in water and the aqueous solution is strongly alkaline, which has a certain corrosive effect on the skin. Please take care when using.
| Items | Na3PO4 .12H2O |
| --- | --- |
| Main contents% ≥ | 98.0 |
| Content (P2O5)  ≥% | 18.3 |
| Sulfate as SO4 % ≤ | 0.5 |
| Water insoluble% ≤ | 0.1 |
| Chloride as Cl% ≤ | 0.4 |
| As w/% ≤ | 0.005 |
| Fe w/% ≤ | 0.01 |
| PH(10g/L) % | 11.5-12.5 |
| Package | In double layer bags of 25 Kg or 50 Kg or 1000 Kg net. |
What Are Applications of Trisodium Phosphate Dodecahydrate
Food grade trisodium phosphate dodecahydrate can be used as an emulsifier in food process, as well as detergent for food bottles and cans. It can also be used as quality improver, emulsifieers, nutritional supplements, pasta alkaline water agents, etc…
Used as water softener and detergent in chemical, textile, printing and dyeing, papermaking, power generation and other industries, as boiler scale inhibitor, water softener in paper dyeing, PH buffering agent for adhesive used in the production of wax paper, fixing agent during printing and dyeing, mercerizing enhancer for fabrics, anti-brittle agent for thread making.
Used as chemical degreasing, decontamination, metal corrosion inhibitor or rust inhibitor in metallurgical industry, flux and decolorizing agent in enamel industry, degreasing agent and degumming agent in the leather industry. It is also an excellent accelerator in photographic developing solutions.
Used as tooth cleaner and bottle detergent, coagulant for rubber latex, as well as sugar juice purify.
Trisodium phosphate dodecahydrate can also be used as analytical reagent, such as compounding agent and precipitating agent.
Extraction Phosphoric Acid Method
The phosphate rock powder and sulfuric acid are reacted to obtain the extracted phosphoric acid. Then add an appropriate amount of washing water, dilute to make the phosphorus pentoxide content in the solution be 18% to 20%. Under stirring, slowly add B6 sodium carbonate with the temperature of 30-35℃ for neutralization reaction to make the PH value be 8 to 8.4. Then add the mother liquor of trisodium phosphate to make the content of phosphorus pentoxide in the solution be less than 12%. Keep the temperature for 15-20min, then it it filtered and concentrated by evaporation. Add liquid caustic soda to make the sodium storage ratio reach 3.24 to 3.26. After cooling, crystallization, centrifugal separation and airflow drying, the finished product of trisodium phosphate dodecahydrate is obtained.
98% Trisodium Phosphate Dodecahydrate Manufacturer - Chemate
Chemate is a reliable and professional supplier and manufacturer of phosphorus chemical, integrating researching and development, production and sales.
Advanced production technology and equipment. We continue to learn and introduce technology and equipment to ensure chemical performance and production efficiency.
Quality assurance. ISO9001 international quality standard system certification, ISO14001 environmental management system certification, CE certification. Strictly control every production process to ensure that it always meets the indicators. A special quality inspection department ensures that the finished product is 100% qualified.
Competitive price. With no third party, the products are sold from the manufacturer directly, so that the price is cheap and reasonable.
Excellent Pre-sales And After-sales Service. Would like to know more about the trisodium phosphate tsp in our company? Inquiry us now, we will reply you as soon as we can.