| Item | Industrial grade | Food grade |
| --- | --- | --- |
| Main contents (Na5P3O10 )%≥ | 94.0 | 94.00 |
| Phosphorus pentoxide(P2O5)   %≥ | 56.5 | 57.0 |
| Water insoluble  %≤ | 0.15 | 0.10 |
| Fe    %≤ | 0.015 | 0.015 |
| PH value of 1% solution | 9.2-10.0 | 9.4-10.0 |
| Heavy metals, as Pb %≤ | / | 0.001 |
| Arsenic,as As  %≤ | / | 0.0003 |
| Fluoride, as F %≤ | / | 0.003 |
| Whiteness %≥ | 85 | 85 |
What Is Sodium Tripolyphosphate STPP?
Sodium tripolyphosphate(STPP), also known as sodium triphosphate, pentasodium triphosphate is a kind of amorphous water-soluble linear polyphosphate in terms of its chemical structure. Sodium tripolyphosphate formula is Na5P3O10 and the molecular weight is 367.86. In appearance, it is white or colorless crystals, which flows well, dissolves in water easily. The aqueous solution is alkaline, the PH value of 1% aqueous solution is 7.9. STPP chemical is a widely used phosphate chemical, which can be divided into food grade and industrial grade sodium tripolyphosphate 94% depends on the uses. Both the two types, Chemate can manufacture and supply. Inquiry us to tell us your requirements now, quotation will be sent to you very quickly.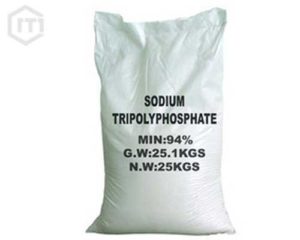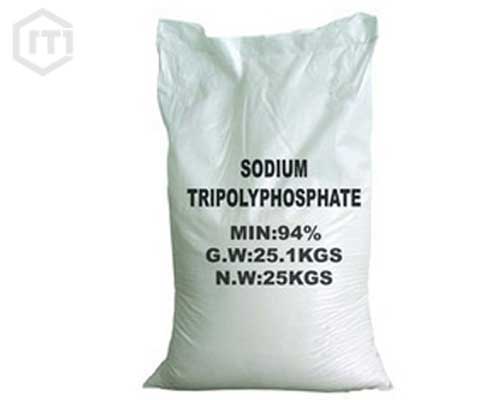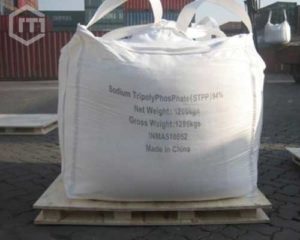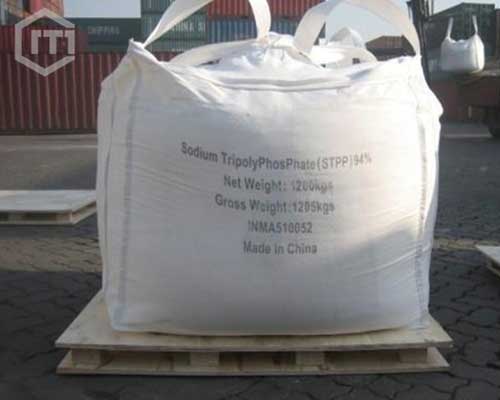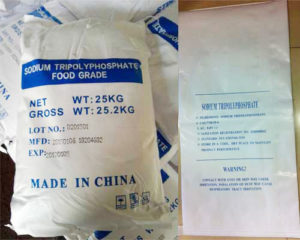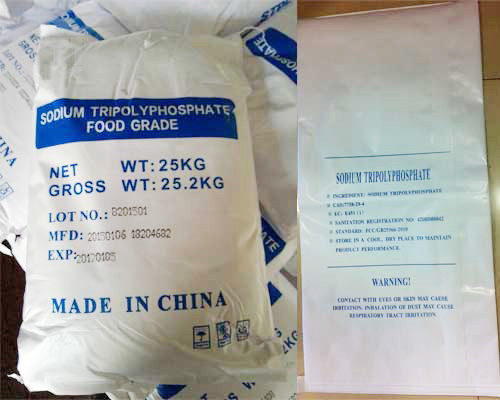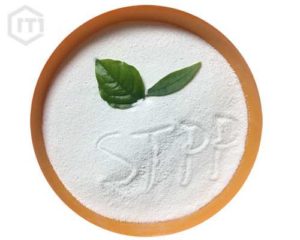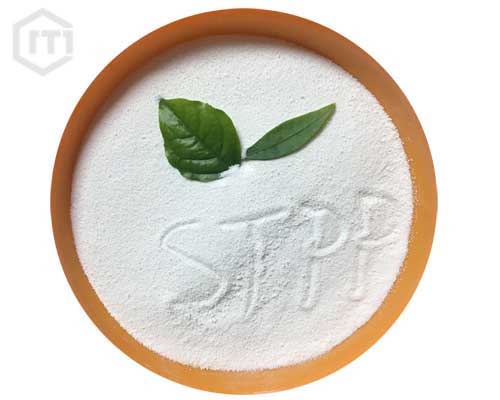 Package: Plastic-woven sack with polythene inner bag, net weight 25kg, 50kg or 1000kg
Want The Best Quotation?
Tell us more about your requirements, such as, model, quantity, package, etc. Quotation will be sent to you quickly. 
Get A Free Quote
What Is Sodium Tripolyphosphate STPP 94% Used For
Sodium Trpolyphosphate Uses in Detergent
In daily washing water, there is usually hard metal ions, which will form insoluble metal salts with the active substances in soap or detergent to reduce the washing ability during washing process. So it is necessary to add something to detergents to make the metal ions contained in the washing water into harmless substances.
(1). The buffer function of sodium tripolyphosphate stpp has strong chelating effect on metal ions, which can eliminate the adverse effect on washing.
(2). In addition, it can captures the metal components contained in dirt and acts to dissociate the dirt during washing process.
(3).It has the effect of swelling and solubilizing the protein in dirt, as well as dissolving the gel.
(4). It can also promote the emulsification of fat and disperse solid dirt. (5). Meanwhile, it has the effect that prevent powder-detergent from agglomeration and keep it dry and granular.
STPP Powder Uses in Food and Drinks
STPP chemical, as water retention agent, quality improver, PH value regulator, metal chelating agent, can be widely used in dairy food, meat food, baked food, flour food, seasoning food, etc… It should be noted is that as food additive, it has strict requirements on the amount of use. Compared with industrial grade STPP, the food grade sodium tripolyphosphate has more stringent requirements and more inspection and monitoring programs in producing. The raw material for the production of STPP food grade must be food grade or genuine products, ordinary industrial grade products can't be used, such as, it must use genuine thermal phosphoric acid, not wet-processed type, even the orthophosphoric acid is food grade.
In ceramic industry, it can be used as ceramic degumming agent, water reducing agent.
Auxiliary agent of synthetic detergent.
Softener for industrial water.
Drilling mud dispersant.
Used in paper making industry as anti-oil agent.
Soap synergist and can prevent soap grease precipitation and frosting.
Sodium tripolyphosphate used in toothpaste can play the role of removing the the tooth stains.
It has strong emulsification effect on lubricating oil and fat.
Adjust the PH value of buffer soap.
It can be used as dispersing agent in the preparation of suspensions in dyeing auxiliaries, paints, kaolin, magnesia, calcium carbonate and other industries.
Want The Best Quotation?
Tell us more about your requirements, such as, model, quantity, package, etc. Quotation will be sent to you quickly. 
Get A Free Quote
FAQ for Sodium Tripolyphosphate
Sodium Tripolyphosphate Price
The price of sodium triphosphate for sale in the market usually vary depending on the price of raw materials. So whether you are our old customer or new customer, please contact us directly to get the latest price. We can assure you that our prices are absolutely the best and most competitive. Get price online now.